I am a little bit obsessed with Maggie Stiefvater's
Raven Cycle
series... Just a little bit. I may have sealed my soul into a box to trade for the third instalment, but really, I have this obsession perfectly under control.
Today, I want to talk about all the brilliant things that make this series so. I re-read the first two books of the quartet (again),
The Raven Boys
and
The Dream Thieves
, very recently, and would like to declare to the world (again) why getting started on this series is maybe the best idea that a person can have.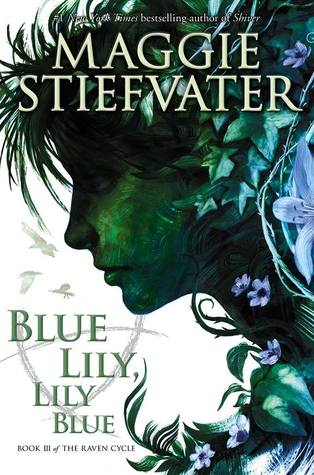 1. There is magic in these books.
The Raven Boys is a story of ley lines, lost welsh kings, and a girl named Blue, surrounded by clairvoyant women, told time and time again that kissing her true love would result in his death. The Dream Thieves builds on that and gives us more still; drag-racing, nightmare creatures, haunting enemies and shattering secrets. There is ancient mythology, trees that speak latin, dream-like settings, psychics and wonder and adventure. Some things we've seen done before, some things are entirely new, and all of it is wrapped together with skill in a way that is captivating and rich. It's all wonderfully atmospheric, a touch of mesmerising fantasy in an otherwise modern-day Virginia.
"Have you heard of the legends of sleeping kings? The legends that heroes like Llewellyn and Glendower and Arthur aren't really dead, but are instead sleeping in tombs, waiting to be woken?"
2. I dare you not to fall in love with the raven boys. I'm entirely certain that I've read about private school boys before, but none like these, not characters that have been written with such artistry and insight. We have Richard Campbell Gansey III, intrepid explorer, chewer of mint leaves, owner of a bright orange Camaro, and both the glue and center of the group. Ronan Lynch; blunt, foul-mouthed, savage, and oddly endearing, with a pet raven named Chainsaw. Adam Parrish is the scholarship student, cautious, often silently bitter, smart and gentle. And the final member: Noah, cold, quiet, sweet Noah, the raven boy that has triggered a sad smile from me more times than once. These boys have an odd friendship, and unconventional friendship, but one that is right and real and that you can't help but want to be a part of.
"Gansey could've had any and all of the friends that he wanted. Instead he had chosen the three of them, three guys who should've, for three different reasons, been friendless."
3. Madness, love and psychic readings. One glimpse inside 300 Fox Way and you will want to be best friends with Blue, laugh at Calla's bold statements and wonder who Orla is really talking to on the phone. The ladies of 300 Fox Way are psychics, friends, mothers, daughters, aunts and cousins, all quite unusual, and some slightly more eccentric than others. Here, we have family and female relationships approached in an entirely different sort of way, one that is both entertaining and vibrant. The best part? Seeing how main character Blue Sargent fits into it all. She is smart, fierce, tiny, a girl with a distinctly individual dress sense, and the only member of 300 Fox Way that lacks a sixth sense. It's hard not to love the chaos and quirkiness in this household, to come to think of these people as your own.
"Do you eat all of the men in the family?
Where do they go?
Does this house have a basement?"
Blue stood up.
"It's like boot camp.
They can't hack it.
Poor things."
"
Maura made something with butter and Calla made something with bacon and Blue steamed broccoli in self-defense."
4. Sleeping kings or not, there is time to laugh. These books are full of dry, witty lines and quietly entertaining statements. It's subtle humour, intelligent and perfectly timed, the sort that makes you smirk along with the characters or take a moment to grin. I am a huge fan of humour in books (who isn't?!) and appreciate it all the more when used well in a story that, for the most part, isn't all light and breezy. Yes, there is folklore, death and darkness, and, for many of the boys, the disappointing weight of reality and its problems, but between all of that, there is friendship, silliness, the free and amusing remarks that make me fall in love with this world and its people every single time.
"We have to be back in three hours
,
"
Ronan said.
"
I just fed Chainsaw but she'll need it again.
"
"
This,
"
Gansey replied,
"
is precisely why I didn't want to have a baby with you."
"Blue tried not to look at Gansey's boat shoes; she felt better about him as a person if she pretended he wasn't wearing them."
"She wore a dress Ronan thought looked like a lampshade. Whatever sort of lamp it belonged on, Gansey clearly wished he had one.
Ronan wasn't a fan of lamps."
5. Waiting is a pleasant sort of torture. There is no sense of rush in the storytelling. It's carefully slow, especially the start of The Raven Boys, with no explosion of events or feelings that the reader hasn't had time to get invested in. The story sounds quite tragically romantic, fairytale-esque even - death and true love, somehow intertwined - but romance, perhaps unexpectedly, plays a very small part in the books. And it's perfect, heartbreakingly and wonderfully so. An almost-kiss can sometimes stir more emotions than an actual one. A quiet exchange of glances can speak more words than real ones. That faint thrum of anticipation is satisfyingly present, and it works so, so well.
"It was mint and memories and the past and the future and she felt as if she'd done this before and already she longed to do it again."
6. Maggie Stiefvater gives me writing envy. And I am not even a writer. The writing here is not flowery or excessive, or lacking sincerity. It's consistent, full of understanding, quiet but strong, in a way that almost looks easy to pull off, but is so distinct and so Maggie Stiefvater. The art of subtlety is an art, and there is so much truth behind the power of show vs tell. It's put to good use. The pacing is never off-kilter. You get a sense, with every sentence, that Stiefvater understands her characters, all the way down to their cores, and knows exactly when to say something and when not to, and how much emphasis to say it with and with which combination of words. It's partly why everything in these books works so well.
"He was brother to a liar and brother to an angel, son of a dream and son of a dreamer."
"She recognized the strange happiness that came from loving something without knowing why you did, that strange happiness that was sometimes so big that it felt like sadness."
"It was a sort of ferocious, quiet beauty, the sort that wouldn't let you admire it. The sort of beauty that always hurt."
This series makes me kind of frantic and just a little bit insane with wanting - wanting more, wanting the next instalment, wanting my neighbour, his mother and his dog to hurry up and read it already. I am torn between forcing people to pick it up, and just getting on my knees and simply begging. I like to think most people have already started this series (right? right?!), but if you haven't, for the love of all things books and bookish, do it.



Because I am crazy excited about
Blue Lily, Lily Blue
, the third book of the four, I will happily pre-order a copy for someone, as long as
The Book Depository
delivers to wherever you live. Please read the terms and conditions in the rafflecopter widget below before entering. Good luck!
a Rafflecopter giveaway