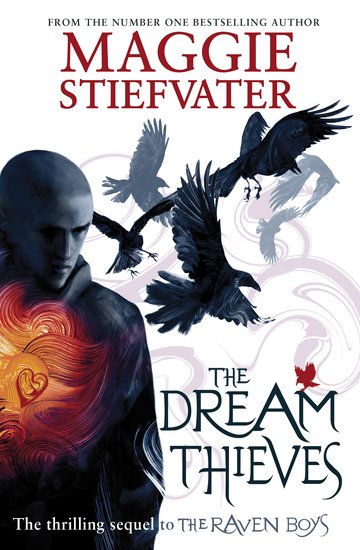 Title:
The Dream Thieves
Author: Maggie Stiefvater
Publisher: Scholastic
Published: Sept 17, 2013
I lost a whole night of sleep while reading this book – my eyeballs nearly fell out of their sockets – and it was worth every. single. minute.
It's a rare and momentous occasion when a sequel as anticipated and sought-after as The Dream Thieves lives up to its predecessor and surpasses expectations in every possible way. It's rarer still for that sequel to make you fall in love with the original story all over again, to make you open your eyes to the once-hidden character quirks and clues, and to make you want to re-read all 400 or so pages again (for the fifth time!) with a new sense of urgency and insight. The Dream Thieves is, in all my personal definitions of the word, a perfect book. Maggie Stiefvater said that it had all her favourite things in it, and it quite clearly has all my favourite things in it too. Only a handful of titles have completely impressed me this year – really, truly impressed me – and Maggie Stiefvater's The Dream Thieves, the second instalment of the Raven Cycle series, comes out on top of them all.
It's so many different things, most of them quite subtle, that make this book work. The clearest two are the writing and the characters. The Raven Boys introduced us to the unconventional and unusual quartet that was Gansey, Ronan, Adam and Noah, and introduced us to the peculiar and strangely lovely psychic-amplifier that was Blue Sargent. The Dream Thieves takes their already well-defined character moulds and makes them feel all the more precious and strange and familiar. It's clear that Stiefvater understands her characters, that she actually knows them, all the way from the things that they say and do, to the small things, to the tip of their lips and the tension in their shoulders, to the flicker in their eyes and the unspoken words in their blink-fast glances. Coupled with her writing – where weight is so expertly given to all the right words, and where emphasis is so expertly provided at all the right moments – the story becomes a living thing that demands investment.
"That night Ronan dreamt of trees… He danced on the knife's edge between awareness and sleep. When he dreamt like this, he was a king. The world was his to bend. His to burn."
In this instalment, the focus takes a slight shift from the lure of ley lines and deadly kisses and the hunt for the Welsh king Owen Glendower, and rests instead on Ronan Lynch's ability to bring dream to reality. We have magical night terrors, impossible languages, an unpredictable Anglo-Saxon-poetry-loving hit man, and illegal street-car races. It's a slow-burn plot, and explosive and exciting all at once. Unlike in the The Raven Boys, where the storyline followed a mostly linear fashion, The Dream Thieves has multiple threads criss-crossing at different stages, some given more attention than others. It's difficult predicting what the climax will be, or where it will be, until it actually happens. The star of this show, though, is Ronan. With his savage smiles and his uninviting remarks. With his humourless laughs and his heartbreakingly hidden acts of compassion. The other raven boys also leave an impression, of course, and although they are not mine, I can't help but feel strangely possessive and protective of them all (even Adam, who I have Mixed Feelings about), much like Blue.
"…Blue was a little in love with all of them. Their magic. Their quest. Their awfulness and strangeness. Her raven boys."
The threat of kissing and killing her true love lingers in the background of the story, never quite totally out of reach. In the meantime, her relationship with the boys strengthens and weakens and changes, as they fight together, argue with each other, comfort each other, and jump on their beds together. It's wonderful. Stiefvater is the queen of pacing and never rushes any aspect of the development here. The third person multiple point of view is almost mind-blowingly flawless (why can't all authors master it so well?!), giving us the perfect glimpses into the friendships and careful relationships from all crucial angles. Best of all is Gansey's, or Richard Campbell Gansey the third's, resolute explorer and observer of curious, ancient things. His comparing Blue to a platypus is one particular highlight of the book. Another is chapter 51 (my favourite).
A lot of the time, The Dream Thieves feels quite character-driven, and as the characters are the main reason that I'm so hopelessly in love with this series, it could not be more fitting. It's generally the little things – the subtle interactions, the banter and the sarcasm, Chainsaw's antics, Ronan throwing Noah out of the window for a laugh, Joseph Kavinsky's trash-talk, the Gray Man's fondness for The Kinks, things that feel ordinary and inconsequential – that really give this story its substance. The rest comes from the elusive and discreetly magical quality of something more happening in an otherwise picturesque, hot and youth-ridden Henrietta, Virginia, where the Aglionby scent of teen wealth and academia is never far off. I need the third book like I need to catch up on those six hours of sleep, and if it's anything as stunning as this one (and The Raven Boys before it), I know that the inevitable post-book depression that's coming my way will all be worth it.